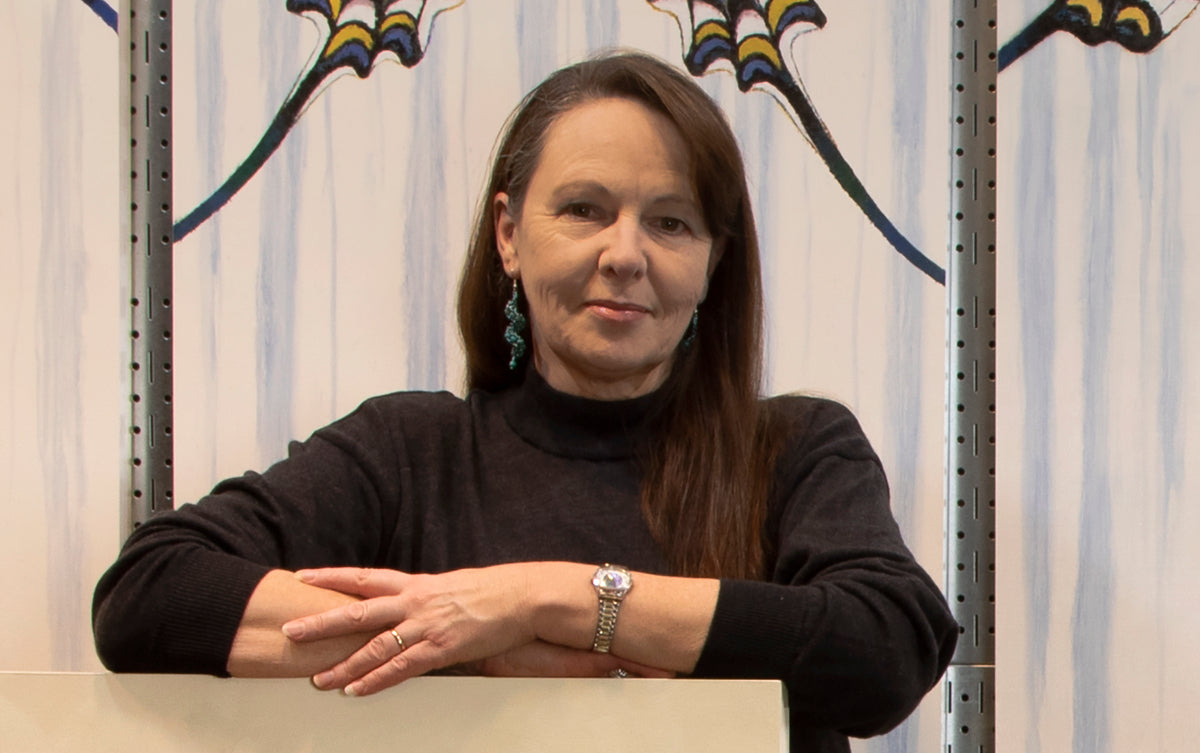 About You and Me
You have walls that need beautiful, inspiring art. 

I was born to paint and I love sending my creations out into the
world to help make people happy.

Together we can fill the world with happiness through art.

Imagine the possibilities!
Krystii Melaine
"Painting is my lifelong passion. After a childhood filled with art and nine years as a fashion designer, I began studying traditional oil painting in the early 1990's. I've been highly successful as a portrait, wildlife and western artist in the USA and Australia. I've pushed the boundaries of realism a bit and
diversified my subjects over the years, but mostly stayed in the traditional realism box. I still love to paint the realism subjects I'm most known for.
However, in the past few years I've found myself at a point in life where I have more to say than can be expressed through realism alone. Life events, losses and discoveries have all contributed to the thoughts that I want to express through my paintings. I've been flirting with ideas of abstraction for years, and at last I've found the courage to break out of that realism box and explore modern artistic concepts.
After a lot of experimenting to discover what Krystii Melaine Modern looks like, a new collection of quietly elegant abstract works is emerging. They incorporate textures, metallic paint, beads, organic forms, lines and stories. I'm expressing my thoughts about life in all its aspects, and these new works will continue to evolve as I do. There are no boundaries. At last I've given myself permission to express myself in any way I like. The only rule is it must look fabulous. Come with me on this new visual and emotional adventure!"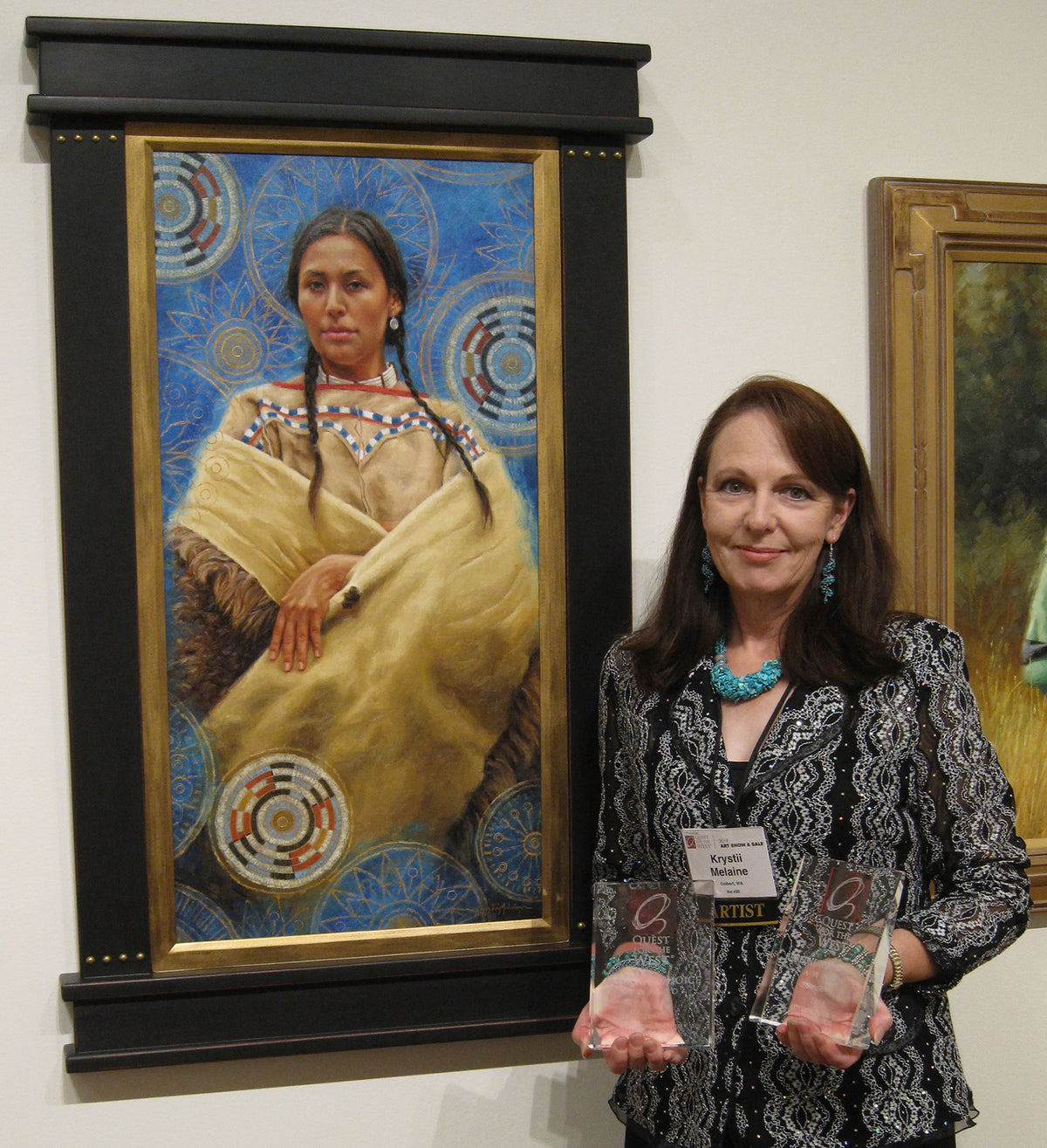 "Krystii Melaine paints quiet moments of thoughtfulness and emotion, and life's brief moments of pure joy and explosive action.

Her stories are subtle but very deep if you look beyond the surface. Poetic rather than narrative, Krystii's paintings often contain symbolic details that hint at the full story.

There is room for interpretation and discovery, room to develop a deeper understanding and appreciation over time. Krystii's paintings speak quietly but profoundly to those who pause to listen." 
Full Biography
Born in Australia, Krystii Melaine was a quiet but determined child. Announcing at the age of four that she was going to be an artist, Krystii won her first art competition at seven and was selling paintings by the age of fourteen. Following university studies in drawing and graphic design, and in need of a
"real job", Krystii established her own fashion design company. By her early twenties she developed The House of Mystique into one of the largest bridal and evening-wear companies in Australia, and had shown her designs in Paris and London.
But a burning desire to return to her dream of being an artist led Krystii to leave fashion behind and undertake five years of atelier study in traditional tonal realism. She became a successful wildlife and portrait artist in Australia, but the market there was limited. A trip to the USA in 1998 opened opportunities to paint American wildlife and an international career was born. During ten years of commuting between countries, Krystii discovered a fascination with the American West and she began seeking out cowboys and Native Americans to paint. She has achieved great success in the USA with numerous museum and gallery exhibitions and many major awards.
In 2010, Krystii moved with her husband, author and historian Michael K. Cecil, from Australia to Spokane, Washington, to be closer to her favorite Western region and its people. This allowed her to do in-depth research including making and beading the clothing and equipment for her Native American paintings, and working with Native American models on location. This dedication to research and authenticity has led to her being recognized as one of the best Western artists working in the USA today.
 Krystii also paints traditional portraits on commission. Her skill in capturing an accurate likeness while expressing the personality of the sitter in a strong, painterly style has led to numerous official and private portraits. The 25 paintings held in permanent museum collections in the USA and Australia include many Military and Native American portraits. The Booth Western Art Museum in Cartersville, Georgia, purchased a set of three life-sized, full-length portraits of Native Americans for their permanent collection, They own an earlier portrait and several smaller works also. The Eiteljorg Museum of American Indians and Western Art in Indianapolis, Indiana, selected Krystii's portrait of a Native American woman as winner of the Harrison Eiteljorg Purchase Award in 2018. The Hockaday Museum of Art in Kalispell, Montana, purchased her portrait of a Blackfeet man for their permanent collection in 2019 as the winner of the Van Kirke Nelson Hockaday Purchase Award.
This focus on traditional realism and western subjects has absorbed Krystii for nearly thirty years, while her other creative inspirations have been put on hold. Recently she allowed her abstract and modern ideas to take flight and discovered a whole new side to her creativity. The result is this website that connects directly to interior designers, fine art consultants, corporate buyers and other professionals to make sourcing high quality modern art at trade prices easy. Direct marketing through her Studio Insider emails and social media takes the middle-man out of sourcing art and provides direct studio access to those creative professionals who have clients with walls to fill. Private art collectors are also able to connect personally with Krystii to expand their collections and commission exclusive custom paintings. Who knows where this new art adventure will take her, but it's sure to be another fabulous ride!
Krystii is a Master Signature Member of the American Women Artists, and a member of the Portrait Society of America.
* 26 paintings in museum collections
* More than 40 major awards
* Participated in more than 110 museum exhibitions in over 23 different museums
* 30 magazine articles, and appears in four books
* Millions of dollars' worth of art sold to collectors around the world 
Annual Museum & Group Exhibitions
Quest for the West, Eiteljorg Museum of American Indians and Western Art, Indianapolis, Indiana
Night of Artists, Briscoe Western Art Museum, San Antonio, Texas
Buffalo Bill Art Show & Sale, Buffalo Bill Center of the West, Cody, Wyoming
Broadmoor Art Experience, Broadmoor Resort, Colorado Springs, Colorado


Krystii Melaine is represented by these fine art galleries
Mountain Trails Galleries - Jackson, Wyoming
Mountain Trails Galleries - Park City, Utah
Broadmoor Galleries - Colorado Springs, Colorado
Sanders Gallery - Tucson, Arizona
Going to the Sun Gallery - Whitefish, Montana
Big Horn Galleries - Cody, Wyoming
Big Horn Galleries - Tubac, Arizona
Singulart - International online gallery based in Paris, France.
Saatchi Art - Online fine art gallery